The property manager should be the first line of contact when there are complaints or urgent time-sensitive issues, acting according to the policies established by the board.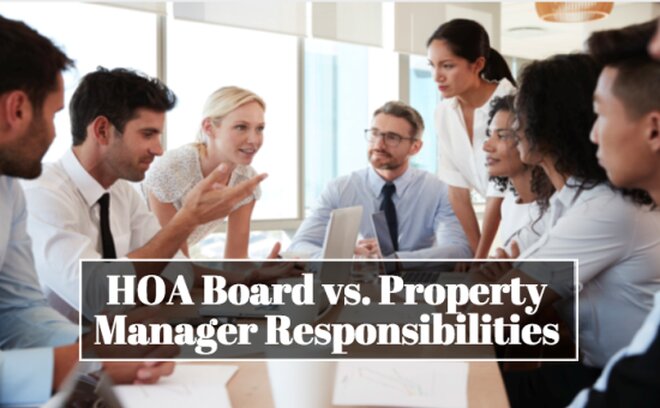 HOA Board vs. Property Manager Responsibilities
HOA Boards are generally composed of homeowners who are either employed full time or are retired. They depend on property management companies to provide support for a wide variety of duties, but the property manager should never be responsible for the duties allocated to the board, and vice versa. The property management company should be the conduit affecting board decisions; it should rarely be placed in the position of making decisions unless CC&Rs warrant.
Financial Responsibilities
While the property manager's staff may oversee issuing payments, it should never have signature authority. Governing documents provide rules regarding the steps required when jobs are performed by outside vendors, invoices are issued by vendors, and the president and/or treasurer are tasked with signing off. Unless an HOA wants to be in nonstop audit mode in order to forestall embezzlement, it is ill-advised to allow a property management company to handle any financials beyond cutting checks and issuing an annual P & L. It is also within the property management purview to hire a CPA to perform the HOA annual tax returns, with the CPA and board president acting as signatories.
Setting Rules (including changing CC&Rs)
Occasionally during meetings (and through correspondence to both board members and property managers), rules may need to be created or amended. For example, in municipalities that create no-smoking ordinances in public areas, a no smoking policy should be voted on by the board, "No Smoking" signs posted, and a fine assessed for breaking the rule. When there are rules set forth in CC&Rs that require updates, these are decided by the board, with consultation from the HOA attorney.
Waiving Fees and Fines
In the event of extenuating circumstances (set forth usually during an executive session), a board of directors may decide to compromise on fees or waive them altogether. This may be necessary to avoid a lien or legal action against a homeowner, which may create even more expenses for the HOA that is worth pursuing; the board may deem it more important to maintain goodwill than pursuing legal action. Once the board has voted, it forwards its recommendation to the property manager who will act accordingly. These decisions must be kept confidential as to avoid creating a situation where other homeowners may believe there is "favoritism" involved.
Architectural Updates
Whether they are changes undertaken to the exterior of the building (for example, painting or common area fencing) or large-scale interior changes desired by a homeowner, these decisions are made by the board. While the property management company can suggest preferred vendors, or solicit and submit bids to the board from vendors, it cannot make decisions on the changes themselves. If it is an exterior change, it is up to the board to also keep the aesthetics consistent with the current look and feel of the development. Once the board receives bids and referrals or testimonials, it can then vote on the project during a regularly scheduled meeting. If the work is subpar, the property manager can make the determination, based on assessments obtained after board president (or another director) has done a walkthrough, to fire the underperforming vendor. While the board makes the decision to choose a vendor (unless there is a longstanding relationship with vendors, especially during emergencies), it is the property management company's responsibility to maintain contact with vendors during the project, not the board's. For example, vendors should contact the management company regarding the timeliness of payments, not members of the board of directors.
There are occasions where, if the property manager has established a legacy with a particular HOA, he or she may be privy to valuable information the board may not. As an example, a board contracted a vendor to replace a compromised wood siding wall with stucco. A wall light was removed during the construction process. The construction company indicated it would purchase a new replacement light to improve the existing aesthetics. Upon installation, common areas were plunged into darkness from sunset to sunrise. It was up to the property manager to obtain an electrician specializing in diagnosing the source of the problem. This property manager also understood that mass market lighting could prove incompatible when installed using the HOA commercial wiring.
Emergency Situations
When homeowners move into a development, they are provided with the protocol involved when reporting emergencies. The property management company takes care of any emergencies with regard to utilities and services:
Water/plumbing
Electrical (in times of outage, contact utility directly)
Security system (surveillance, gates, and doors)
Gas leaks (contact utility directly)
Pest control and gardening/tree trimming (in an emergency or if an obstruction is caused)
In the event of a security issue involving theft or burglary, homeowners must call local authorities. Should a fire occur in either a homeowner's property, parking or common areas, it is common sense for any homeowner witnessing this emergency to immediately call 911 or the local fire department, not the property manager or board members. Time is of the essence when fire or theft are involved.
If a flood emergency, especially a sewer line break, threatens property, and homeowners are aware of the preferred emergency vendor's contact information (provided during the move-in process), it's always best practice to contact the vendor directly, especially after property management company business hours. Immediate response will help remediate effects of water incursion and minimize potential property damage. While the board consults with the property management company in submitting and settling property damage claims to the HOA insurance company, it is not a board responsibility to contact them directly.
Best Practices for Absentee Landlords and Renters
If the property is occupied by a renter, it is the responsibility of the absentee landlord to provide the renter with the property manager's contact information, local authorities' phone numbers, as well as relevant vendor contact information. The landlord should also make it clear that any work performed within the confines of the homeowner's individual property (absent of emergency) will be charged to the landlord, not to the HOA, and thus will be charged back to the renter if the problem was caused by them (i.e., plugged toilet due to flushing large paper items, not by tree root obstruction).
Renters may not be aware they are doing things against the rules – such as storing items in areas that may result in fines, smoking in common areas, making noise after hours – and it is up to the landlord to convey these rules or the landlord will face fines that may accumulate over time. If the renter is not informed, he/she should not be obligated to pay these fines, so it is vital for landlords to provide as much "move-in" information to their renters as possible.
Who You Gonna Call?
Ultimately, the board makes decisions, and the property management company acts on those decisions. The property manager should also be the first line of contact when there are complaints or urgent time-sensitive issues. Homeowners should be mindful that contacting board members during emergencies or other property maintenance issues is not the most efficient path. They may need to be gently reminded that board members are homeowners too.