Having your response plan is not just a proactive measure, but it also helps maintain reserve levels and property values, and that's precisely what an HOA should aim for.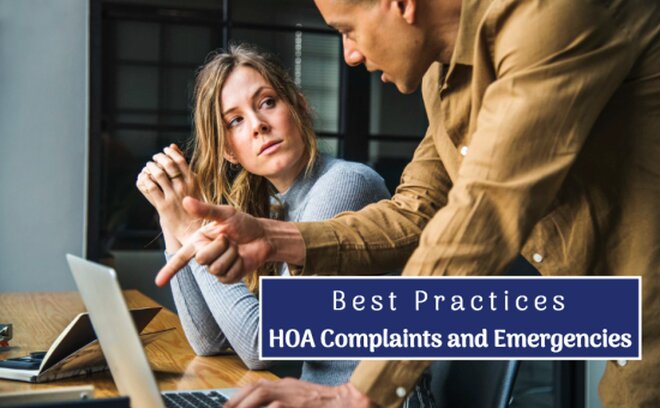 Best Practices for Responding to HOA Member Complaints and Emergencies
When it comes to complaints and emergencies, HOA directors and management company representatives should be prepared to "expect the unexpected" – that is, if association members are not fully aware of what they should do in the event of an occurrence that requires an unexpected level of involvement.
Homeowners: Use Common Sense
Unforeseen problems can run from the fairly routine, such as pest incursion during hot weather, to emergency situations such as fire, earthquake or flood. While your property management company will probably have some involvement after-the-fact in these scenarios, generally speaking (depending on HOA governing documents and rules), most are handled individually by the homeowner, with assistance by expert trained personnel (fire, ambulance, police). The number one priority during one of these events is to use common sense while protecting life and limb first. Should trained personnel be required to intervene in an emergency, make sure their instructions are followed. This is critically important especially when a crime has been committed.
Management Company Responsibilities
After a natural disaster, or a flooding problem (such as the bursting of a sewer pipe), it is important for the management company to lead the way in helping the homeowner(s) obtain assistance through the HOA's insurance. The estimate, repair and reconstruction process can take from days to months, depending on the type and severity of the occurrence. In the event of a sewer pipe explosion that may damage several homes, a resolution may take months, while spraying for ants will usually be a once a year proposition, if that frequently.
Board of Directors: Provide Guidance & Assistance
Homeowners grow to depend on the members of their board, however, they are not the first to consult in the event of emergencies, and when minor complaints arise within the community. If yours is a "No Smoking" complex, and you witness residents smoking, especially in areas that can be potentially hazardous, this may not be a minor infraction but warrants a fine to the offending rule breaker. In this situation, it is appropriate to seek advice from a director. The board can then address the issue at a meeting, and remind homeowners through meeting minutes, that rules violations mean fines, without exceptions. At that point, the board can vote to fine the homeowner or to allow a one-time exception to serve as a warning before fines are assessed.
Make a Plan and Stick to It
Every HOA should have an emergency plan which is discussed with and provided to each homeowner prior to moving into the property. The plan should address a number of different contingencies and how a homeowner should handle them: whether the homeowner should contact 911, the management company, the board, or in rare events, call a preferred HOA vendor directly. In the prior example of a bursting sewer pipe, even if the event occurs during business hours, if the affected homeowner is unable to reach a management company representative in a timely fashion, that is when it becomes crucial to contact the preferred vendor, as any delay will likely impact the amount of potential damage.
A fundamental part of your emergency plan should involve the board of directors' fiduciary responsibilities. When homes have incurred damage, there is a lot of decision making to be made: estimates to be voted upon, construction timelines scheduled, coordination with the management company on choosing vendors and making payments. There may be unforeseen expenses, actions on which should be contained in the association governing documents. If emergency procedures require updating, it behooves the board and management company work together to best inform all HOA members in the most expeditious manner possible. In any event, emergency response plan documents, when updated, should be sent both electronically with a paper copy to each HOA.
Criminal Activity: First Responders and HOA
When a crime occurs in the community, its consequences show how the various constituents of the HOA can work together to achieve a mutually beneficial result. It's always a best practice to call first responders in the event of theft, robbery or vandalism. To counter those criminal activities, the association may wish to implement a security system. If crime has been an intrinsic problem to the community, installation of a security system may need to be expedited. Competitive bids, board meetings to decide on a vendor, work schedule – all are the responsibility of the board, with coordination of vendor approval and payments with the management company.
If a crime occurs after the security system is in place, homeowners would still need to contact the police first, then the security system vendor directly, who can supply video or screenshots of any criminal activity, which can be subsequently shared with local authorities. While the members of the board need not be included in the contact chain, it's a good idea to contact at least one director, who can share the information with the board president. This way if additional security procedures are needed, they can be discussed as an agenda item at the next board meeting, with the affected homeowner present.
Preserving Community Integrity: Short and Long Term
When a deferred expense suddenly becomes an emergency expense, it makes sense for boards to create expenditure guidelines to help keep reserves funded, perform an annual reserve study to keep funding on track and to be prudent when creating the need for special assessments. Requirements may ebb and flow, according to both the financial and structural health of the community, so it is always best to attack those issues that may grow into larger, more expensive problems before they break the bank.
Despite exhaustive preparation, the unexpected may happen and these circumstances require a clear understanding of board member, management company, and membership responsibilities. Having your response plan is not just a preemptive/proactive measure, but it also helps maintain reserve levels and property values, and that's precisely what an HOA should aim for.