Serving on an HOA board can be difficult at times, but it can also be a positive life-changing experience. By being a volunteer board member, you can help create a harmoniously functioning community.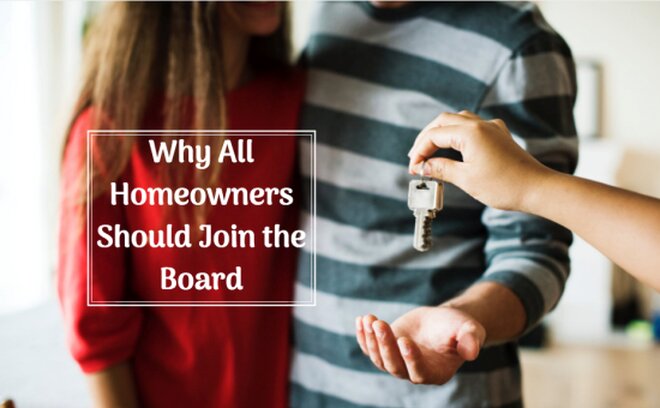 Why Homeowners Should Join their HOA Board
Regardless of the size of the HOA, where the development is located geographically, or the demographics of its homeowners, there are some aspects shared amongst all associations, the most important of which is that each and every homeowner wants what is best for his or her property, and to do everything possible to maintain the property value. This is why involvement in the inner workings of the association is so significant. Becoming a member of the HOA board and being at the center of activity, from budgeting to problem-solving, allows a homeowner a deeper understanding of how vital it is to collect dues, address repairs, fine violators and resolve complaints.
The reasons are many for a homeowner to join his or her HOA board of directors apart from helping with the vital running functions of the community. On a personal level, joining the board of directors can build leadership and teambuilding skills. A directorial position also allows homeowners to give back to the community and show how much they care about maintaining it and making sure it is also in good financial shape. Being a director also allows one the opportunity to listen to others with different viewpoints, and arrive at more well-informed decisions based on varied opinions and experiences.
What is an HOA?
The homeowner's association is essentially a nonprofit entity with all homeowners as members. The Board of Directors oversees the decision making and oversight, while the management company deals with the day-to-day functioning of the development, as well as issuing tax returns on an annual basis. HOA CC&Rs contain relevant information on budgeting, dues collection and enforcement rules and regulations. If a new board member doesn't have this document, it can generally be requested from the community manager (if there is one) or from the county public records. CC&Rs also contain information regarding the formation and structure of the board of directors and their individual responsibilities.
The CC&Rs contain one very overlooked but vitally important piece of information: How many board members are required for your HOA to reach a quorum. Quorum is what is required for decision making, but it is vital to elections and to the very existence of the HOA. In many states, if there is no election quorum (3 nominations for 3 available board seats), even one director can appoint other directors to achieve a quorum in an open meeting. If a quorum is not achievable, your HOA may need to go to court and appoint a receiver, an expensive proposition that, in effect, results in the membership relinquishing control over the community. This is why if election times come and directors are leaving the board, it's important to bring new volunteers into the fold as soon as possible before election time.
Becoming a Member of the Board of Directors
Everyone who is a homeowner in your community is also an HOA member. Each HOA has a different composition of its board of directors, according to the size of the community. For example, a 15 unit complex may only have 3 directors, while a massive development of 500 homes may have 20. These commonly include a President, Vice President, Secretary, and Treasurer. Each officer has different responsibilities, for example, the President typically sets the agenda, and the Secretary takes meeting minutes, while the Treasurer signs checks (whether paper or online).
Generally, HOA bylaws require that there be a minimum number of board members who serve for pre-ordained terms. The CC&Rs describe who can serve on the board and provide descriptions of election procedures. The documents also determine the required meetings and describe meeting and voting procedures. If a director or other HOA member approaches you to join the board for the coming year perhaps, once placed on the ballot and elected, you will then attend quarterly board meetings and report findings according to your position.
What Makes a (Potentially) Good Board Member?
To be a good board member, you cannot merely be a people pleaser. While every board's goal is to keep the peace in the community concerning its decision making, you cannot please everyone every time. There will always be an occasional fine to be assessed, trees that need to be cut down, or a special assessment that must be done. You'll need to use your patience and diplomatic skills to navigate through administrative issues that may result in personal confrontation – if a vote, for instance, doesn't go a certain way. As a member of the board, you become part of an invaluable team that helps keep the community humming.
Being a positive influence in your community is always a plus when faced with tough, at times discouraging decisions. If it becomes necessary to spend a large chunk of the reserve for emergency repairs, and other promised repairs must be delayed, it helps to remain optimistic while the reserve is being built up, and encourage affected homeowners that they are top of mind. Getting to know your neighbors as fellow homeowners with different issues than your own is a valuable exercise in empathy. When neighbors begin to let their guard down to the board and bring issues out into the open, the partnership between the board of directors and its membership.
When serving on the board, the position entails becoming a business person, an essential part of the governing team of a corporation – the HOA. Thinking in the long-term rather than short-term results in better decisions t benefit the community at large. The board is the entity that makes these decisions; a board member that has no authority of his or her own. But when issues are brought up at board meetings, a good board member should be fair, and formulate decisions based on improving the community at large rather than on his or her own self-interests.
Although serving on an HOA board can be difficult at times, it can also be a life-changing experience. Not only does being a volunteer board member help create a harmoniously functioning community, but it also looks good on a resume too. Recruiters find volunteer experience, especially on the governing board, an excellent indicator of being a team player and problem solver. It also shows character by way of giving up valuable time for little to no compensation.
How To Become a Board Member
If you are interested in serving on the board of your HOA, be sure to attend meetings and educate yourself. Meet your neighbors and hear about issues that affect them, and see how much commonalities you share. The experience will change your perspective as a member of the community. Be sure to express your interest to a current board member at least 2-3 months before the annual meeting. If there is an opening after a board member's retirement, it may be an excellent time to join. Get involved for your community!