Property managers cannot afford to ignore their reviews; online reviews will inform the decision making of HOAs when choosing a property management company.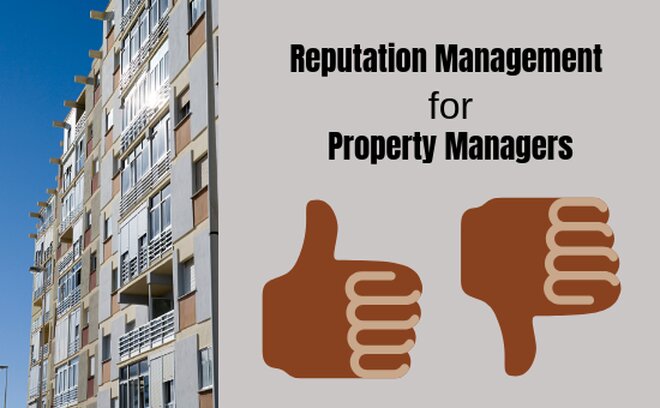 Reputation Management for Property Managers
Prior to the internet (20+ years ago), property management companies made their reputation through word of mouth and written testimonials provided by current and past customers. Nowadays, with the advent of online review sites as well as testimonials on a corporate web site, it is possible to ramp up a reputation in fairly short order. Reputations, however, are just as easily harmed by poor reviews too. This is why it is so vital to the growth of a property management company to tend to its reviews. Property managers cannot afford to ignore their reviews; each bad review diminishes their reputation which could potentially cause loss of business.
Dissatisfied HOAs are always looking for alternatives to their present property managers, and while performing their research they will view testimonials and reviews of their current and potential property management company. These online reviews will inform their decision making.
The Importance of Online Reviews
Statistics prove that the overwhelming majority of consumers use reviews to assist their decisions. This isn't limited to consumer products alone; it also extends into the service industry. In fact, sites that specialize in reviewing local contractors help homeowners find a reputable, reliable contractor for services from plumbing to home room additions. Sites like Angie's List and Home Adviser have reputations that depend on checking backgrounds of their contractors, otherwise, a lack of vetting may cause a disaster at a customer's property. There are also comprehensive sites such as Yelp and Google that review everything from a to z under their umbrellas. Between all the sites with reviews internet-wide, over 90% of purchases are decided by reading reviews, so the importance of them cannot be underestimated.
How to Begin Harnessing Your Online Presence
In many cases especially with new businesses that are not mindful of their online footprint, reviews are generated on a business "account" that was never created by the business in the first place. While it's imperative to proactively create an account, it's also crucial for maintaining an online reputation to "claim" the account when created by a reviewer. This way property managers can respond to reviews quickly and, in the case of a negative review, in such a way as to minimize any negative impact. Paying attention and responding to reviews politely can also help the original reviewer change his or her mind into changing a review to a positive one.
Claiming an account previously created by someone outside your company is fairly simple. For example, when you begin the process for claiming your business, Google asks questions regarding the business including name, address, phone number and web site URL. Google will then send a postcard containing a verification code that the company owner or representative enters into Google interface, thereby verifying business ownership. After your verification is complete, your business will not only appear on Google Maps, but any access to your account will be limited to your company or its representatives. Reviews, however, can still be added by users from the outside.
While keeping an eye on your own online reputation, don't ignore that of your competition. See how they handle reviews, what they say, the solutions they employ. Even if your company is presently on a negative trajectory, it's never too late to move the arrow upward. Never let it be said that learning from the competition does not improve your business.
Never Ignore Negative – or even Positive – Reviews
Good reputations take several years to develop but can be ruined in the blink of an eye. Creating prompt, well thought out responses are critical, with a professional writing tone that is both empathetic and reflects company integrity.
Create an online presence that illustrates that you listen to homeowners and board members. This not only means creating a comprehensive online review account with as much information as possible but making regular updates when necessary.
Promptly respond to all reviews. It doesn't matter whether your reviews are positive or negative, it's imperative to remain engaged with reviewers.
If you respond to a negative review, do not argue. Rather, take responsibility and offer a solution (or solutions, depending on the problem).
Follow up in a personal manner to all negative reviews. A phone call, private message or email will open the lines of communication.
Social Media Channel Engagement
Keeping your social media footprint current and lively will boost your reputation management. Comments and images on social media may not always be positive for a property management company, but it may well be worth keeping such a post when the solution becomes a net positive resulting in happy homeowners and board members. It's important to stay on top of your social media because of the sheer volume of posts on these platforms (Twitter, Instagram, and Facebook). Pinterest can be utilized to link to recent projects, while YouTube can link to videos of those projects.
Reputation Management Tools
Managing social media and review sites can be a daunting task for one property management company employee. This is why finding a good reputation management tool is very important. Be sure to research the tool for its viability and ease of use, and get testimonials from other current clients. The larger the app's reach, the better it can potentially work for you. Imagine being able to log into 1 site and view all recent reviews, posts, and mentions of your company from anywhere on the internet? It will make you, the property manager, more powerful in being able to forestall complaints before they escalate into possible property damage or legal entanglements. It is well worth the cost of obtaining an application to help reign in negativity into an "online complaint funnel" that focuses on all online mentions except email. The initial cost may save tens of thousands over time, and create new business for your property management company as well.