Pet waste left uncollected is an unsightly threat to the health of your community. Lack of enforcement of a dog waste regulation in your community affects not only its well being, but also property value.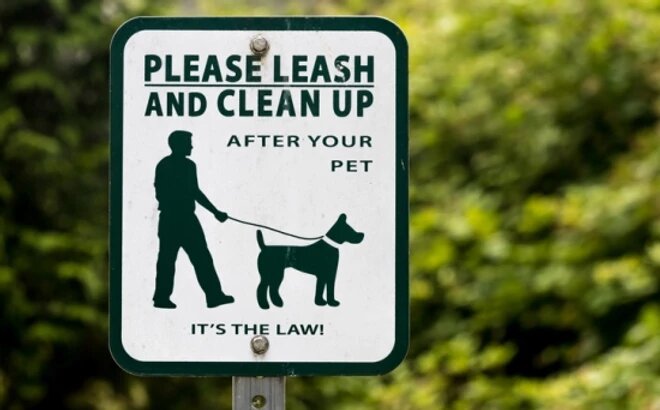 How to Enforce HOA Pet Policies
Pets Are Family
Few HOA membership topics elicit more emotion than pet ownership. Pets are truly a part of the family, and current statistics indicate that fully 68% of American households own pets. Every pet owner will extol the virtues of having a furry friend to walk in the mornings, or snuggle with after a hard day at the office. With pet ownership continuing to rise, rules governing pets can become essential board issues. It's also recommended that any prospective homeowner (who is also a pet owner) check the pet ownership rules of developments he visits to make sure his pet is made welcome by the HOA rules. While pet policies are subject to change, some associations do not allow pets altogether.
Every state has its own statutes concerning how HOAs should handle pets, with several states allowing HOAs to permit outright pet restriction. This, however, may not be practical at the individual HOA level, as total limitation creates a less family-friendly atmosphere, thus lowering property value.
Apply Pet Rules Consistently
While CC&Rs are the ultimate arbiter of pet restrictions in most states, it can be up to the HOA board to set more specific limits or allowances not covered in the CC&Rs. Most of all, pet policy should be clear and enforcement consistent. Homeowners who do not comply may face legal action if they do not follow HOA guidelines for keeping pets. If a board has granted a pass for friends or board members, it may be placing its enforcement power in jeopardy. As an example, if a homeowner is taken to court for a pet policy infraction, he may have a case to overrule the board if its power has been applied inconsistently. Pet policies can change over time. You can easily find out how your fellow members feel about current policies by suggesting your property management company send a survey on suggestions for modifications to bylaws, or how to better enforce current policies. Even a refresher course on pet policy as a whole is a good idea for longtime residents.
Should you decide to implement policy changes that include future restrictions, be sure to allow present members to be grandfathered, should they be affected by new policies. It's unwise and unreasonable to create a situation where a resident is forced to give up a pet when they had lived under previous rules when the pet was adopted. A pet owner could successfully wage a legal action against the HOA.
Policies Beyond CC&Rs
When applying more specific restrictions, the board may consider types of pets (restricting exotics, for example), the breed or size of a dog. If a municipality has made ownership of aggressive breeds illegal, then those local statutes would take precedence, should a homeowner decide to bring one into his home. The board would be within its rights to ask that the animal is removed, or contact city officials for removal, in extreme cases. It would also be reasonable for them to file a lawsuit if the animal is expressly forbidden by city law. The same applies to leash laws and pet waste regulations. A homeowner must abide by these statutes above and beyond what is specified in CC&Rs, but for the board, it's not a bad idea to include pet statutes into its overarching pet policies just to remind pet owners what is and is not permissible while on their property or in common areas.
Service and Assistance Animal Exemptions
There can also be exemptions that apply beyond standard CC&R mandates. These may include allowing service or assistance animals, many of which may not fall within the weight restriction guidelines set by the HOA board. This is an explicit cut exemption that is protected by the Americans with Disabilities Act (ADA). The Department of Housing & Urban Development defines an assistance animal is one "that works, provides assistance, or performs tasks for the benefit of a person with a disability, or provides emotional support that alleviates one or more identified symptoms or effects of a person's disability." While the ADA specifies "service animals" as dogs with specialized training to perform tasks for a disabled owner's well being, "assistance animals" may include any type of domestic animal as long as it provides help with the owner's disability. "Comfort animals" can fall under the definition of "assistance animals."
The disabled HOA member must, of course, comply with city, state and HOA regulations unrelated to the animal's being able to provide support (including leash and waste clean-up), but conditions on the type of pet, breed, and size cannot be set as policy or set in CC&Rs.
Pet Waste – Problem & Solutions
Pet waste left uncollected is an unsightly threat to the health of your community. Its proliferation spreads disease and can leach into groundwater. Bacteria found in dog waste can include e.coli, parvo, salmonella and campylobacter, the last of which can cause severe gastrointestinal symptoms among the elderly, infants, and those with weakened immune systems. Lack of enforcement of a dog waste regulation in your community affects not only its well being, but also property value.
The size of your HOA can affect its ability to enforce a pooper scooper policy. Large communities can create a dog park complete with stations having a ready supply of waste bags. But for most HOAs, it may be more practical to employ simple solutions like educating homeowners about the deleterious health effects of dog waste, and how important it is to dispose of it responsibly. Reminders can be posted publicly, mailed, or emailed to members of the community. In cases where these measures are not entirely successful, a cleaning service can be hired. Residents must be made mindful of how harmful negligent behavior can be, to their surroundings, to their families, and to their communities at large.